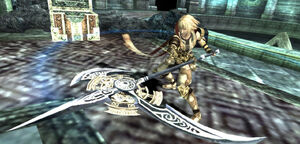 Tricky to master, it cuts a swathe through foes over a wide area. - In game description
The Military Scythe, a long scythe, whose shape reminds that of a halberd, is a weapon Aeron finds in a Chest on the second floor of the Ironclad Turret. It is very powerful and has a long range. The downside is that it is rather slow in both movement speed and execution, it also give less defense than the Athosian Sword and there is a maximum of three hits in a combo.
Charging the Sycthe more than once will result in a different combo, instead of chaining from the previous ones. However, if you fail to press the A button in time, the combo done will the one of the lower charge (lvl3 charge without A = lvl2 combo).
Though the loss of movement speed is at first glance crippling when time is constantly of the essence, mastering this weapon proves to become very rewarding when faced with elite servant beast, as it can dispatch multiple enemies with ease and speed, thanks to its impressive power and fantastic reach. The smaller combos also mean that dodge cancelling is less frequent. The scythe's diversity of combos allows for a better handling of varied situations: for example, the lvl 2 combo is best used when against multiple enemies as all the attacks have a wide circular range, whereas the third is particularly effective when handling one enemy like the light knight, thanks to its great vertical range.
Upgrade
[
]