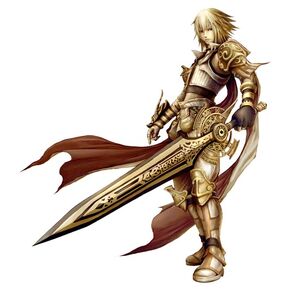 Developed in 460, this is an easy-to-wield military issue weapon.
- In game description
It's the weapon which you have at the start of the game. As the name clearly states, it is from the Kingdom of Athos. Because it is Athosian and Aeron starts with it, it is likely that it was the sword he used during the war (although, in the cinematic where he is seen fainting before Elena comes and saves him, he was wielding a more traditional sword.)
There is a possibility that the sword belongs to Mavda , and that she lent it to him to explore the Towers. (She says something like that when you Chat with the Scythe or the twinblades equiped. She also says she "will be wanting it back at the end" if you Chat with her with the Athosian Sword equipped.)
It can be combined with the chain to get a variety of combos. It is the second fastest weapon to the Twinblades, in terms of attack speed and mobility.